MC is offering our group a 50% discount on the CLIPS Supplementary Readers, extending a promotion that is similar to the recent closure sale at Tiong Bahru Popular.
I have limited stocks for the complete set available for both Level 1 and 2. Those stocks will be available only via FFF, link to purchase will be announced after the sharing session. Additionally, there will be individual titles remaining from each level to choose from. The CLIPS readers' contract is expiring soon, and once the books are sold out, there will be no reprints available.
CLIPS Supplementary Readers are a series of Chinese leveled readers designed for children aged 7-10 years old. The books are lightweight and ideal for carrying to school for silent reading.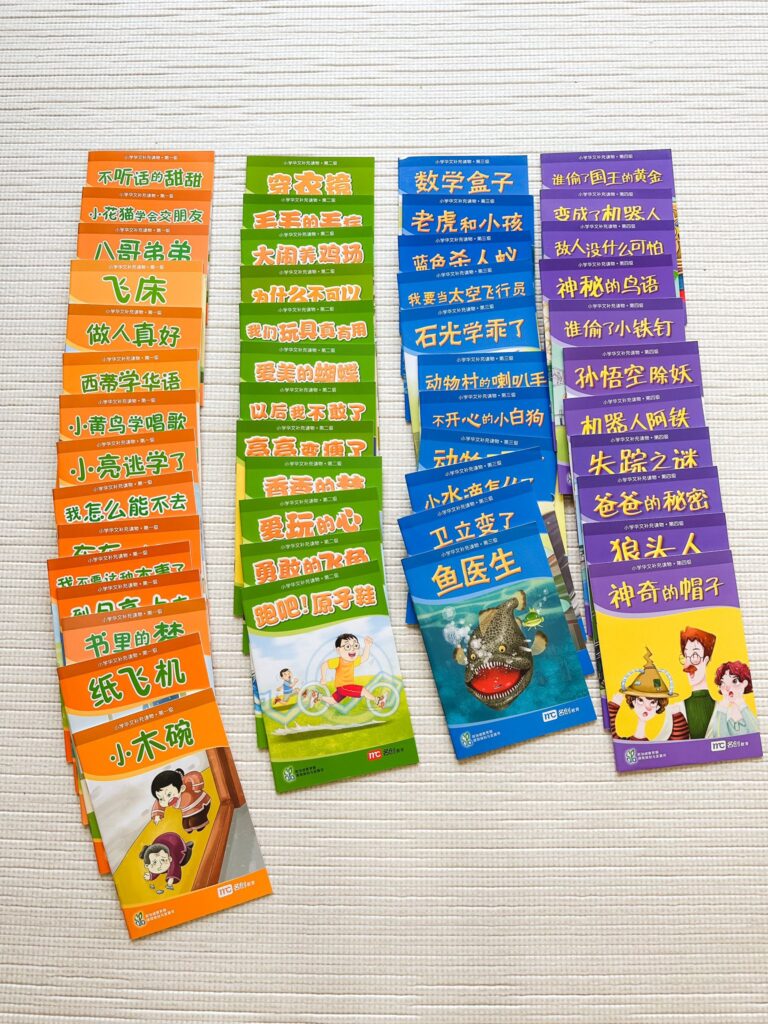 I must confess that I wasn't initially drawn to CLIPS when I first encountered it. However, it has turned out to be a hidden gem worth having. The series features engaging stories with colorful illustrations and carefully graded language levels. What sets it apart is that most of the stories incorporate moral teachings and values.
Let's look at one of my favourite books in level 1: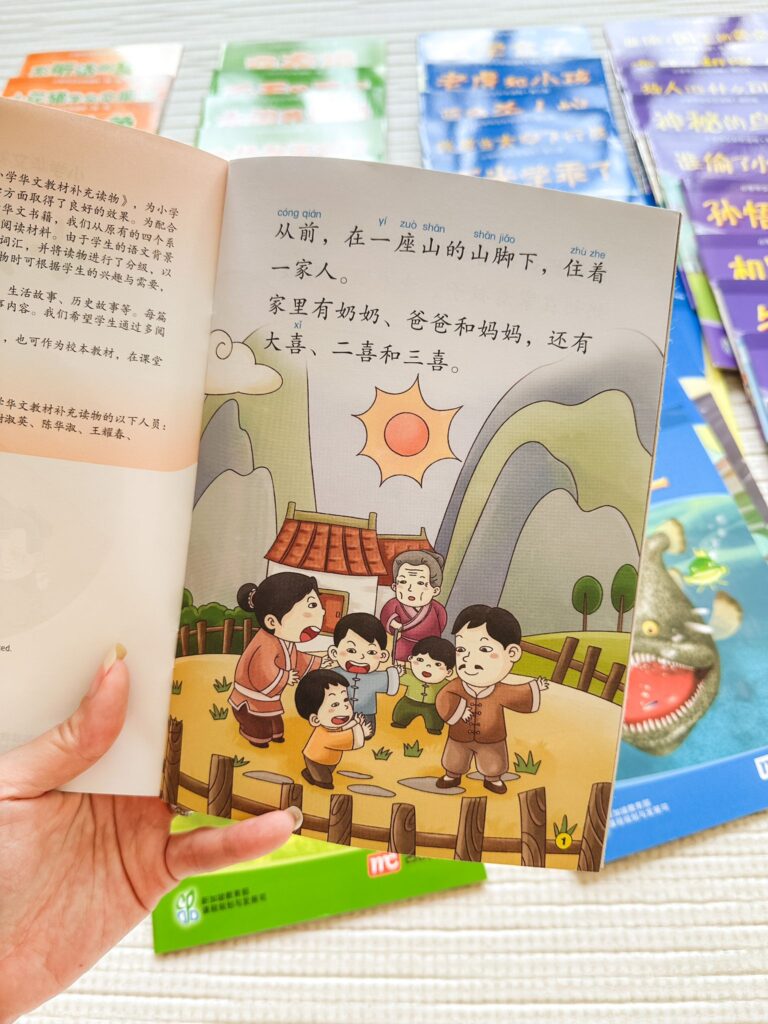 Story goes, there lived a family of 6, including Grandmother, Father, Mother, and three children.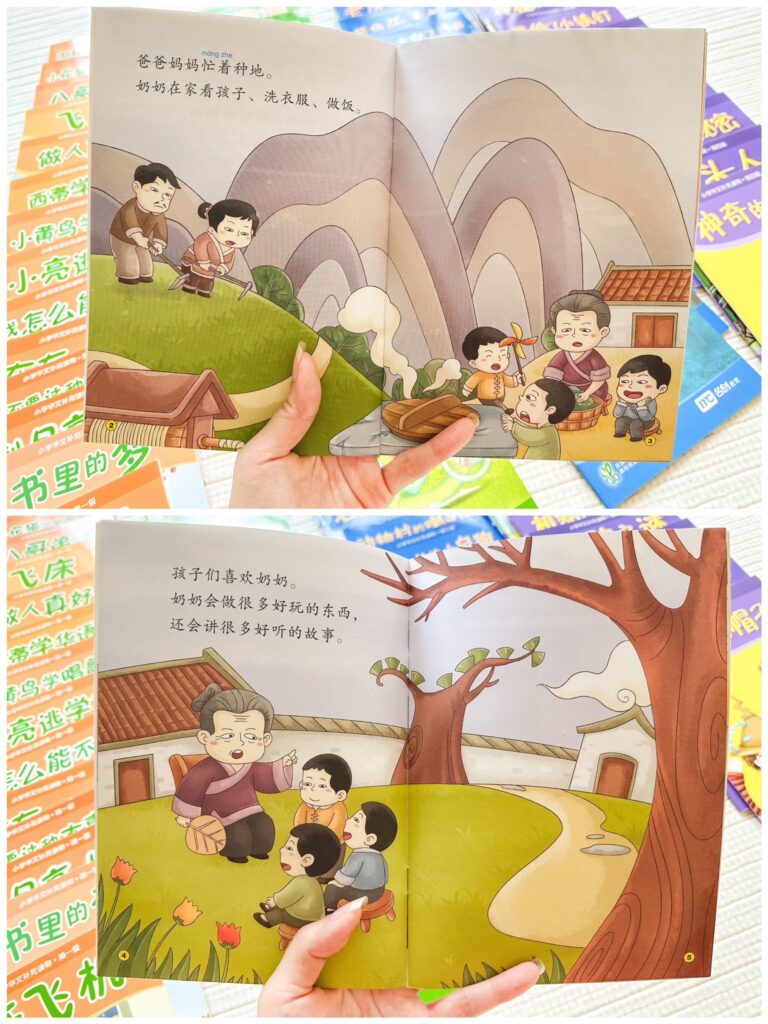 While Father and Mother work in the fields, Grandmother takes good care of the children, household chores, and cooking. The children love their grandmother as she is always fun and tells good stories.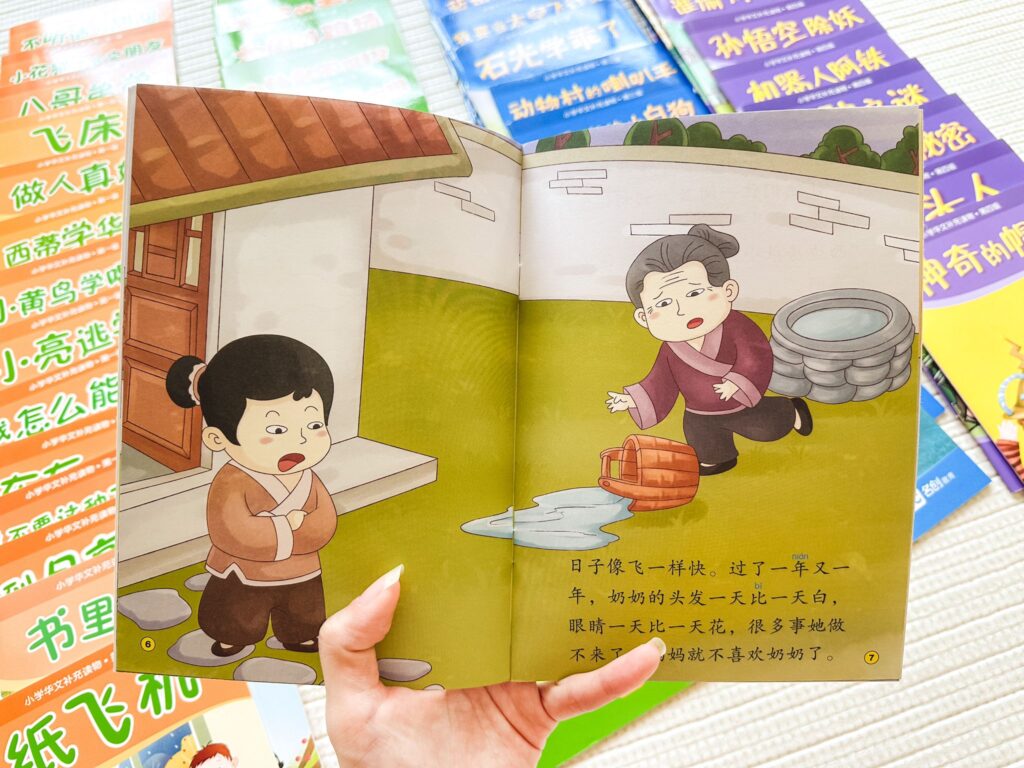 As the years went by, the Grandmother aged and became more clumsy. It became difficult for her to carry out her usual chores, and Mother starts to dislike her.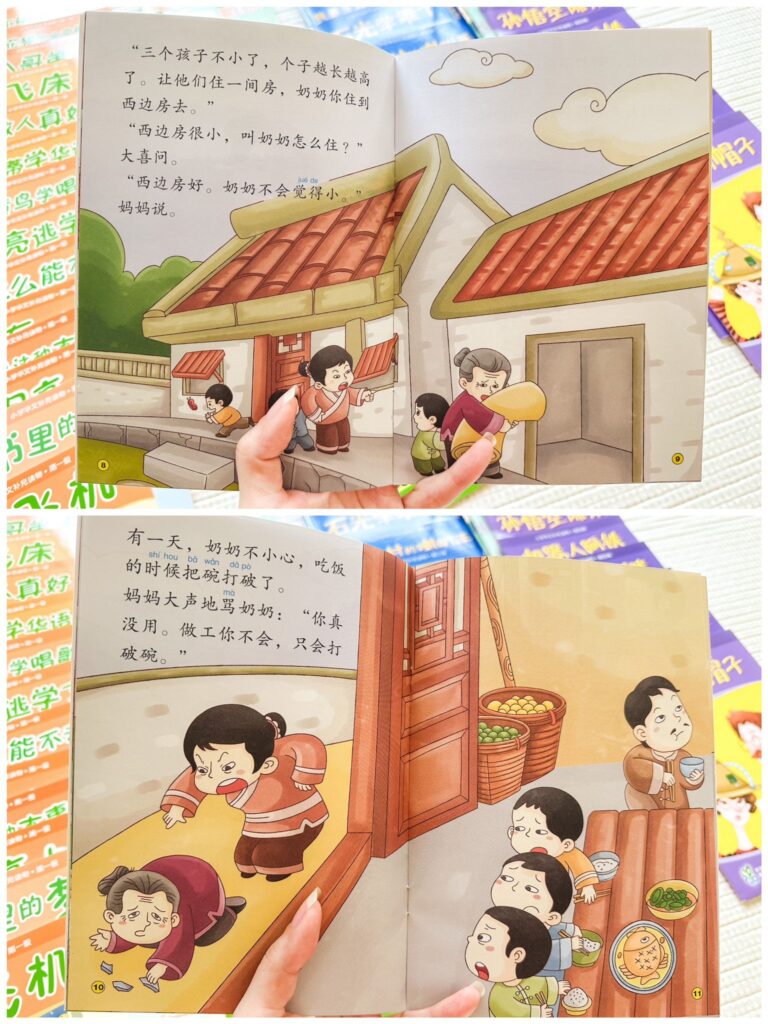 Mother moved Grandmother to a smaller room in the house and scolded her when she accidentally broke a bowl while eating.
Note: The children are observing the situation, while Father chose to pretend not to notice what was happening.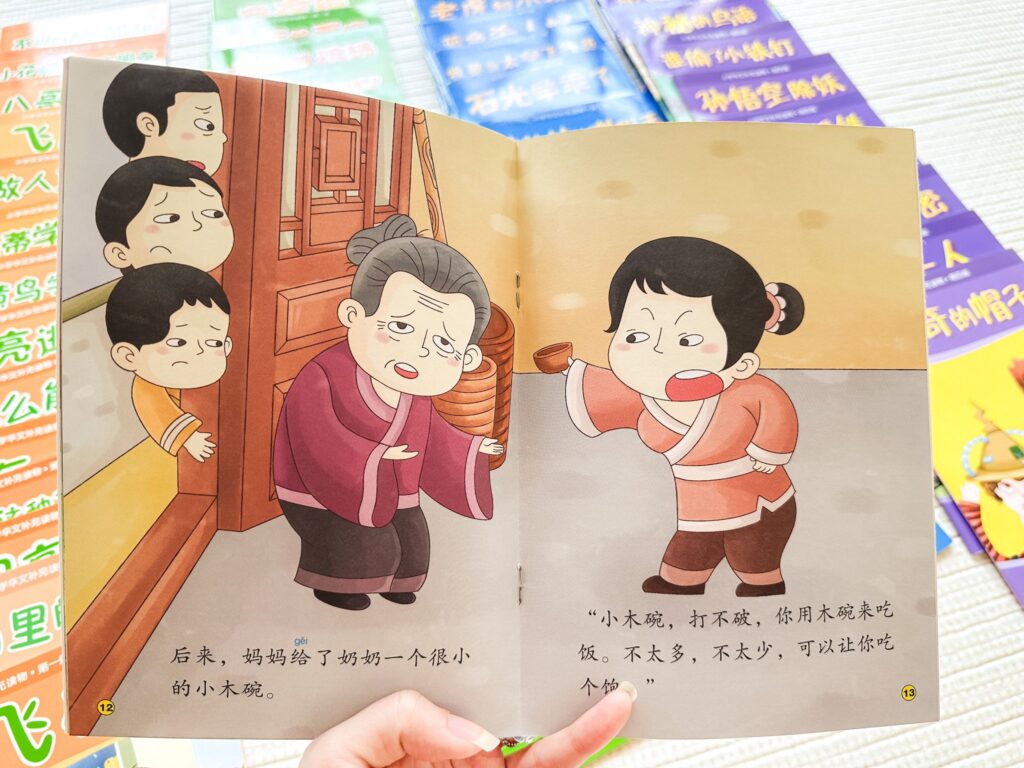 Mother handed Grandmother a small wooden bowl, saying that it would be impossible for her to break it and that she didn't need to eat as much anymore.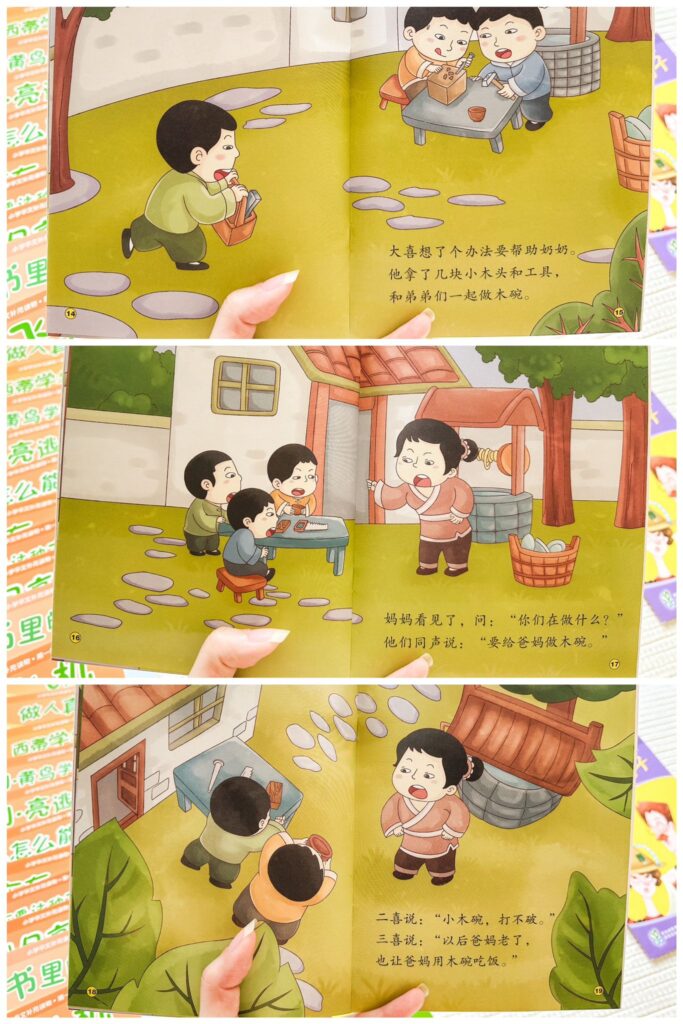 Seeing how Mother treated Grandmother, the children decided to help Grandmother. They came up with the plan to make small wooden bowls for Father and Mother.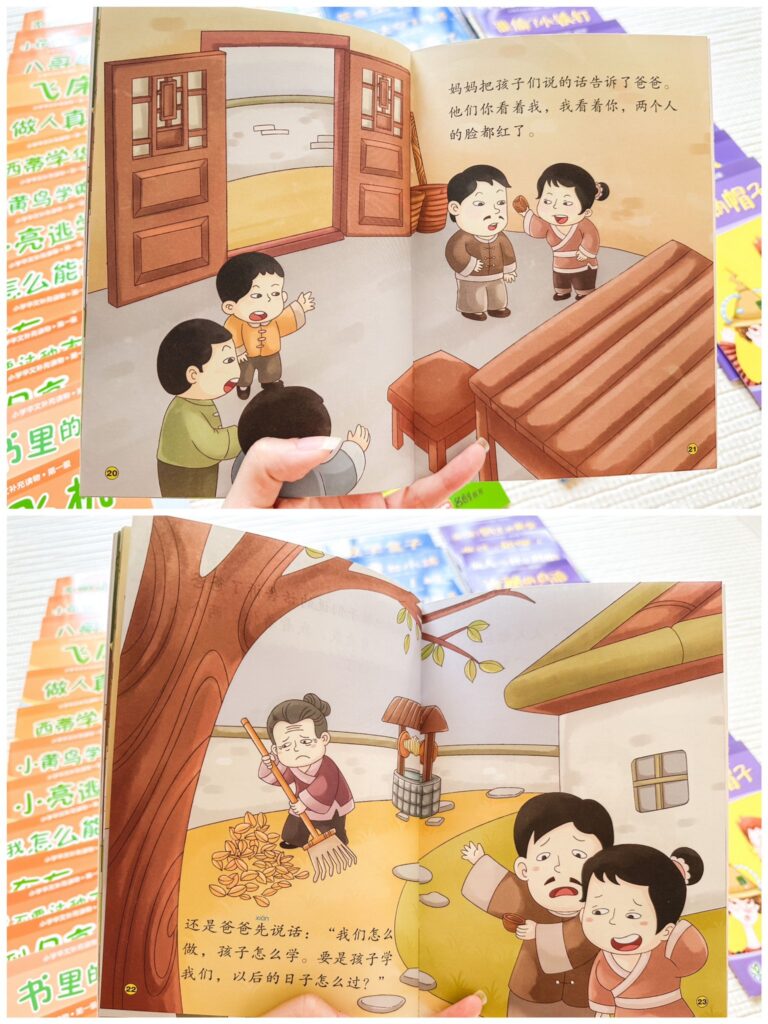 Upon hearing the children's plan, Father and Mother were overcome with a deep sense of shame. They suddenly realized the extent of their mistreatment towards Grandmother and how their actions had been observed by their children. It made them reflect on their behavior and the importance of setting a positive example for their children.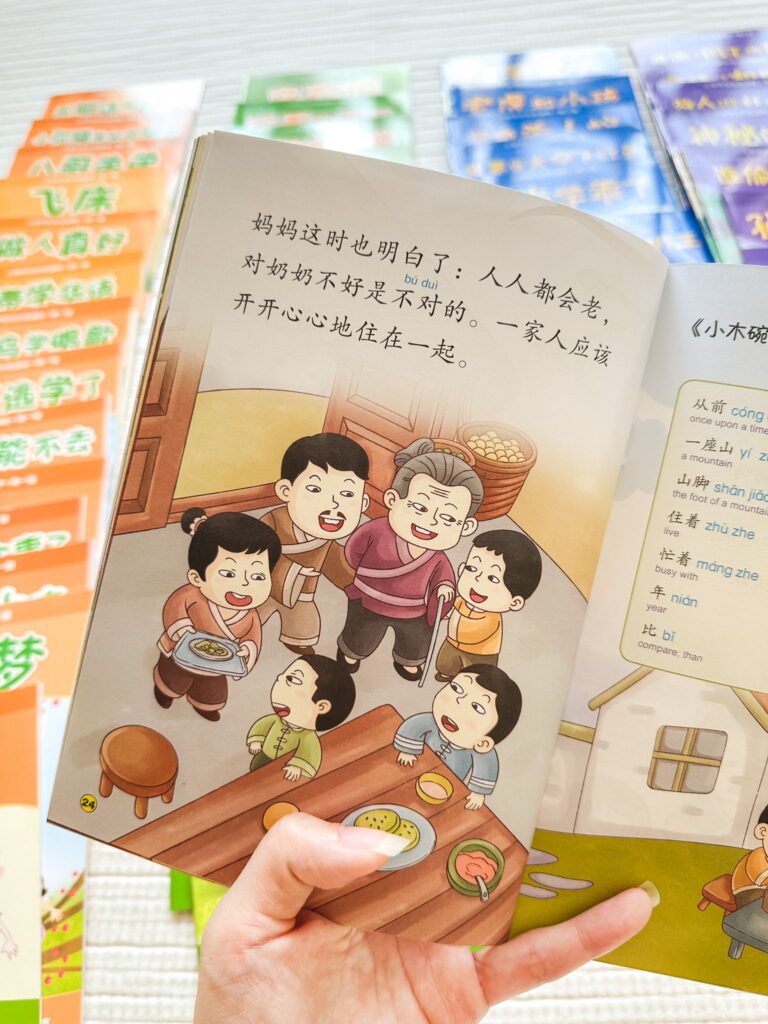 This book conveys an important message to our children that as people grow older, their abilities may change, but their value remains. It encourages children to respect and appreciate the elderly. It emphasizes the importance of treating the elderly with empathy and support. By instilling these values, our children learn to respect and value individuals regardless of their age or physical abilities.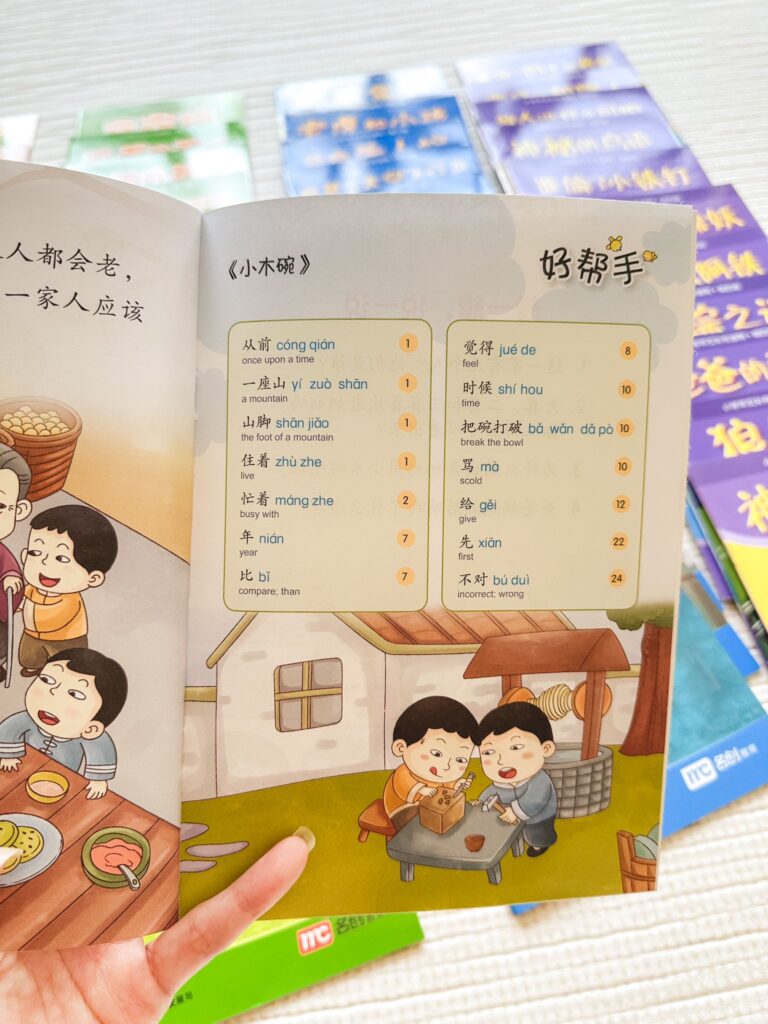 Word List with pinyin at the end of the story.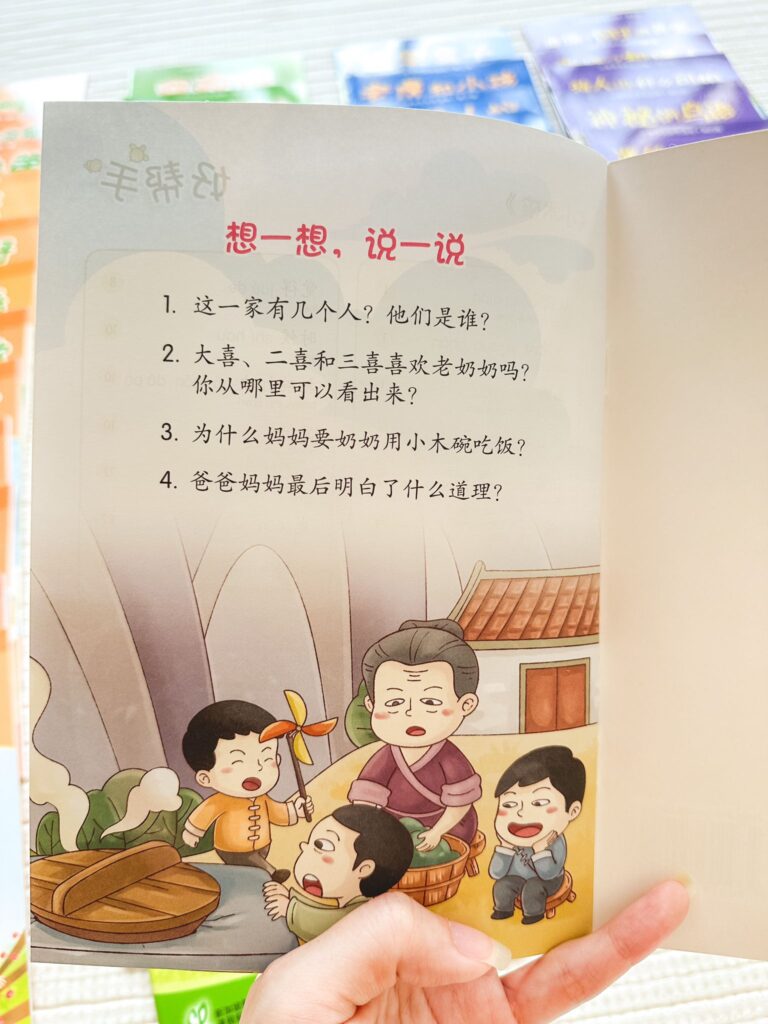 At the end of the book, there are questions designed to aid children in understanding and comprehending what they have read. By reflecting on the story and answering these questions, children can deepen their comprehension and develop a deeper connection with the story.
In comparison to other leveled readers I've encountered, I personally feel that CLIPS focuses more on developing Chinese reading stamina. What stands out to me is that almost every story incorporates moments of moral teaching, and that is something I truly appreciate. Additionally, I am captivated by the illustrations that accompany the text, further enhancing the reading experience.
Let's see the inside pages of other levels: