What are leveled readers?
Before we dive into 《小羊上山》, I just wanted to take a moment to explain what leveled readers are.
Leveled readers are books that have been specifically designed to help children improve their reading skills at different levels of difficulty. They are typically categorized according to a reading level system, which can be based on a variety of factors such as vocabulary, sentence structure, and overall complexity. Leveled readers can be used to provide targeted reading practice and support for children at different stages of their reading development.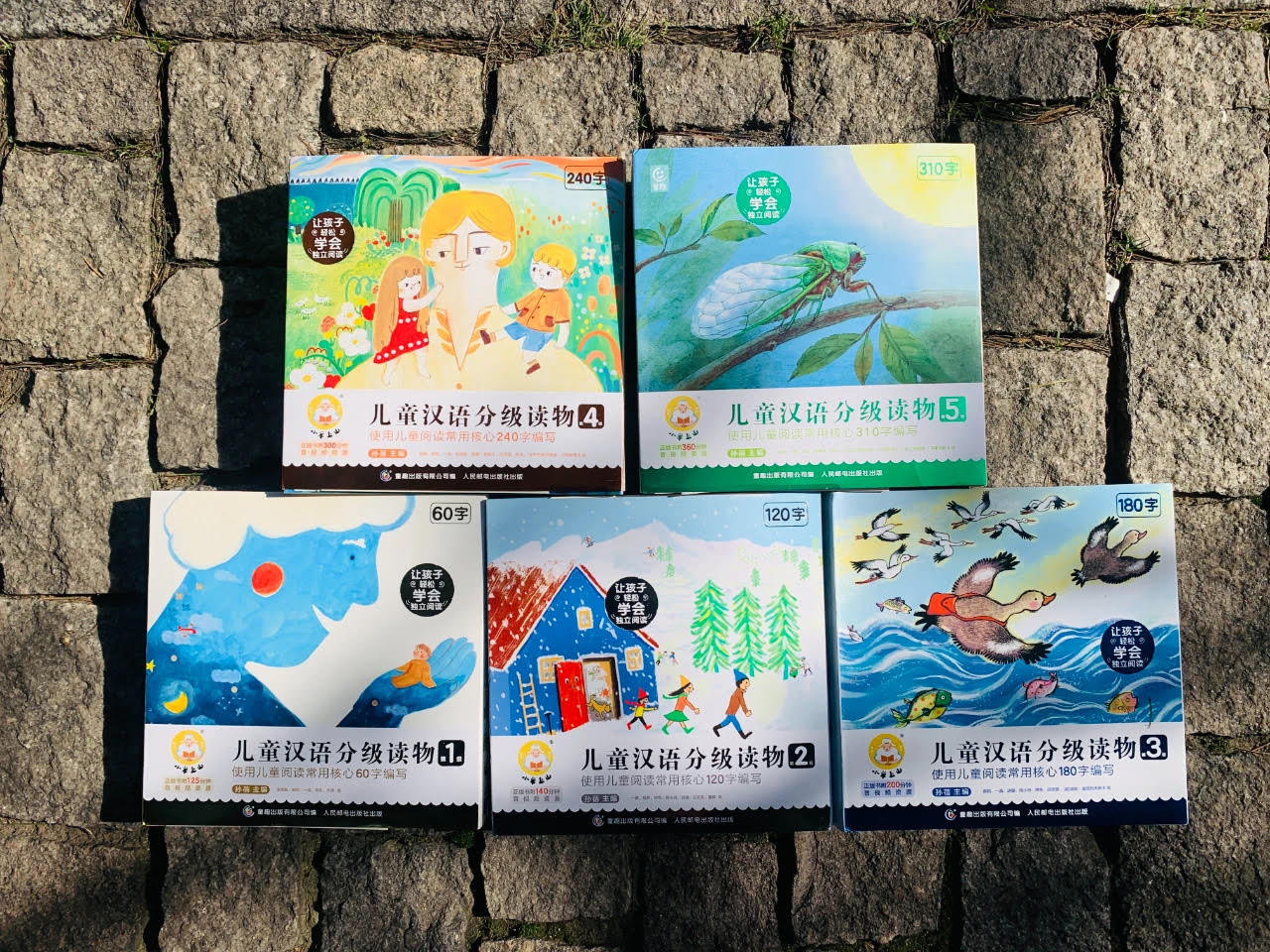 Why 《小羊上山》is a great starting point?
It is actually very difficult to come out with Chinese Leveled reading mainly due to 2 factors:
Firstly, it is essential to ensure that the initial level is easy enough for beginners to grasp
Secondly, it is crucial to maintain and stimulate children's interest in reading.
And to make it even more difficult, the above 2 aspects are contradictory.
These two aspects are often in conflict with each other. Thus, finding a suitable balance point is a crucial aspect when evaluating a set of Leveled Reading books.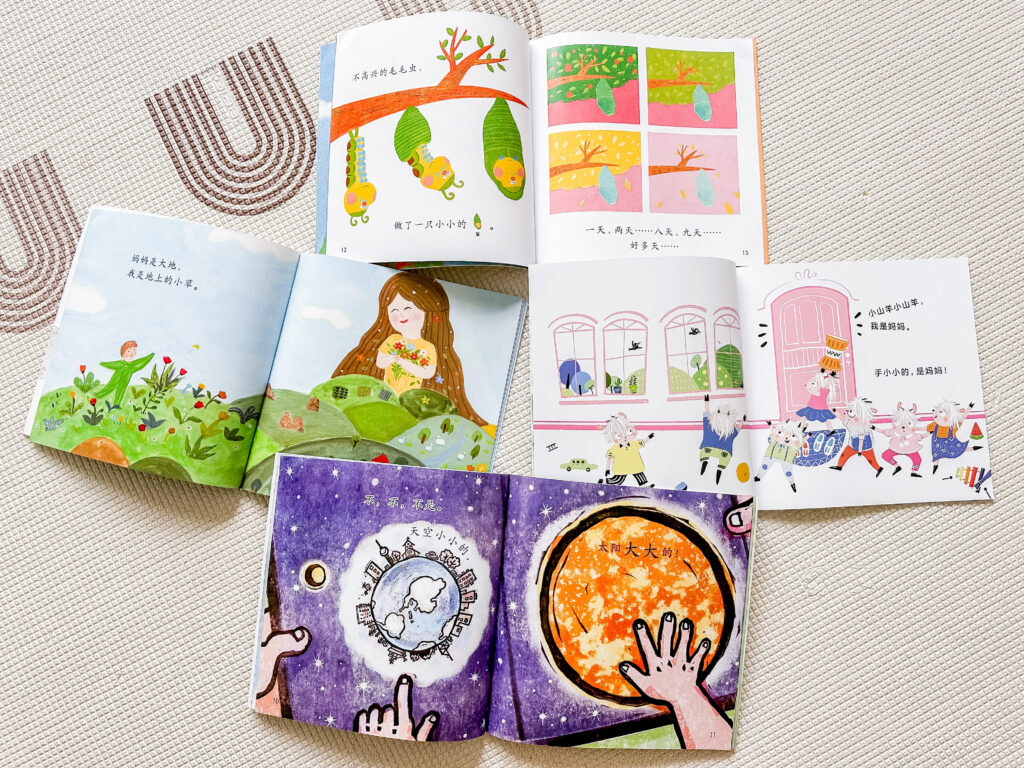 《小羊上山》is designed to be easily understood by kids who just starting to recognize words with gradual increase in difficulty level. The books cover interesting topics for our children, including original stories, classic fairy tales, science, nature and everyday life stories.
And this is what makes 《小羊上山》 a perfect Chinese Leveled Reading book for starters.
Age range suitability for 《小羊上山》
I base the level of a book not on a particular age group, but rather on the reading ability of the child.
Finding age-appropriate books for children who are just beginning to learn to read can be a quite a challenge, especially for children who are starting to learn to read. I often hear from mothers that they struggled to find books that their pre-readers can understand, which lead to a lack of interest in reading.
Before we discuss the recommended age for reading "小羊上山", let's explore the cognitive development of children.
Children typically begin to learn reading around the age of 5, building upon the language skills they have acquired since birth. While babies can differentiate between different spoken languages as young as 4 months old, they usually only begin to distinguish between different written languages when they reach the age of 3. Therefore, exposing our children to reading at an early age can be highly beneficial for their development.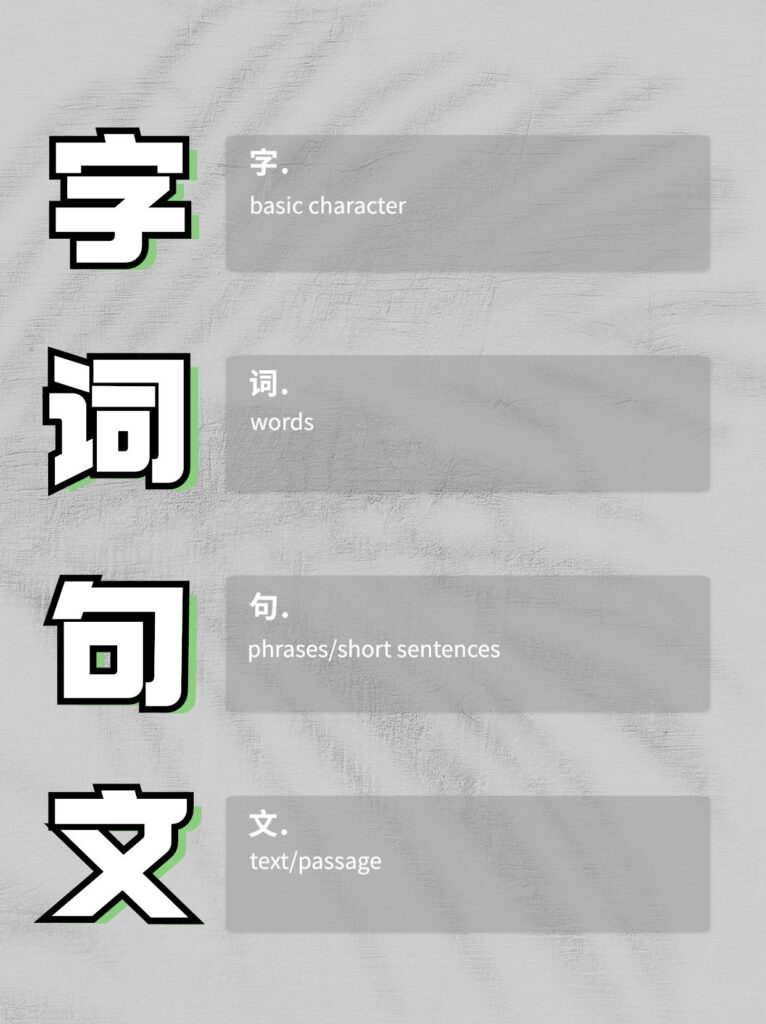 Before our children can learn to read, they build their vocabulary through listening and speaking. In Chinese, the learning process starts with characters (字), then words (词), followed by phrases/sentences (句), and finally texts (文).
From the age of 3, we can begin to introduce our children to 《小羊上山》. The words and stories are simple enough for them to understand, and we can use them as storybooks to read together with our kids.
How to use《小羊上山》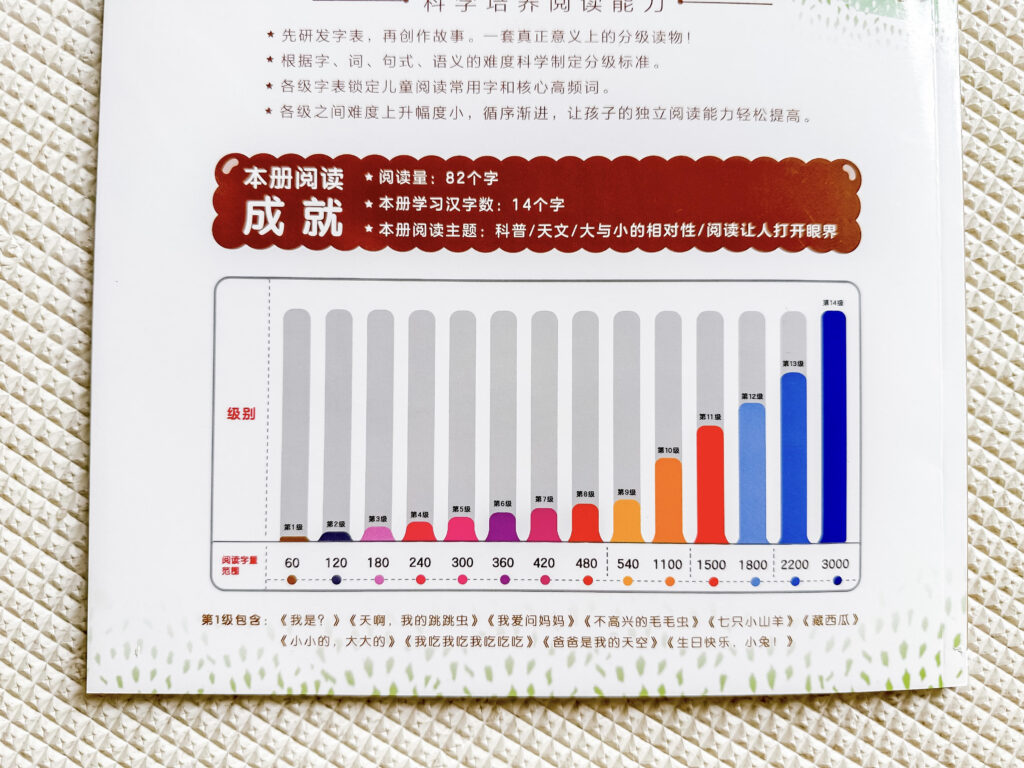 Currently, 小羊上山 is available up to level 5, however, there are plans for 14 levels in total.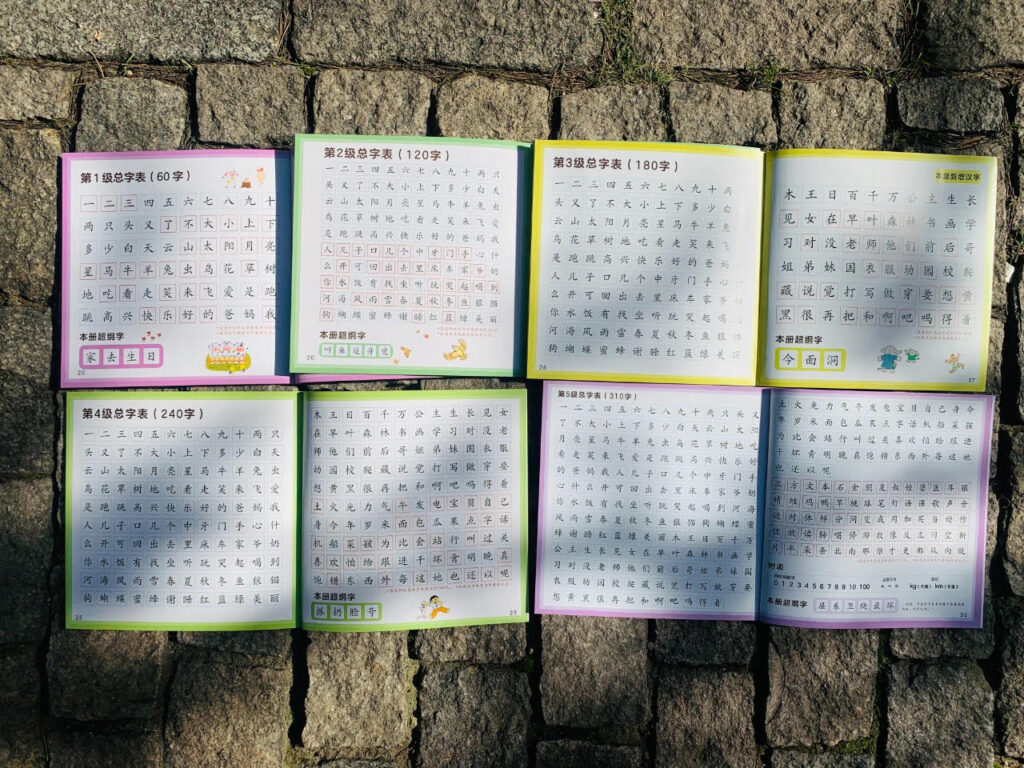 Each level consists of 10 books and introduces 60 new words. Words from previous levels will also be repeated in the later levels to reinforce memory.
Let's take a look at Level 1: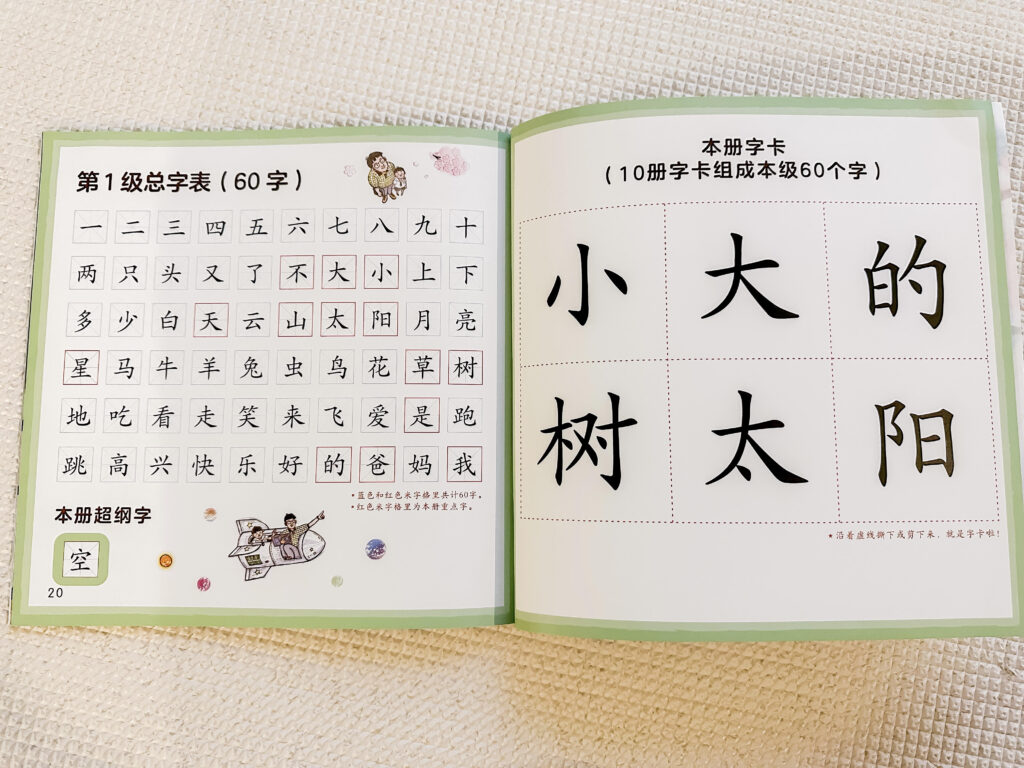 The back of each book contains a character list on the left, which shows the words your child will learn at each level. The list comprises approximately 10 numbers, 25 nouns, 10 verbs, 10 adjectives, and a few 组词. The words highlighted in red boxes are the vocabulary words used in each book.
On the right, you'll see the 6 new words that your child will need to learn in order to read most of the words in the story.
We follow the flow of 字,词,句,文, and we start by learning the necessary words required for reading each book. The big words can even be cut out and used as flashcards.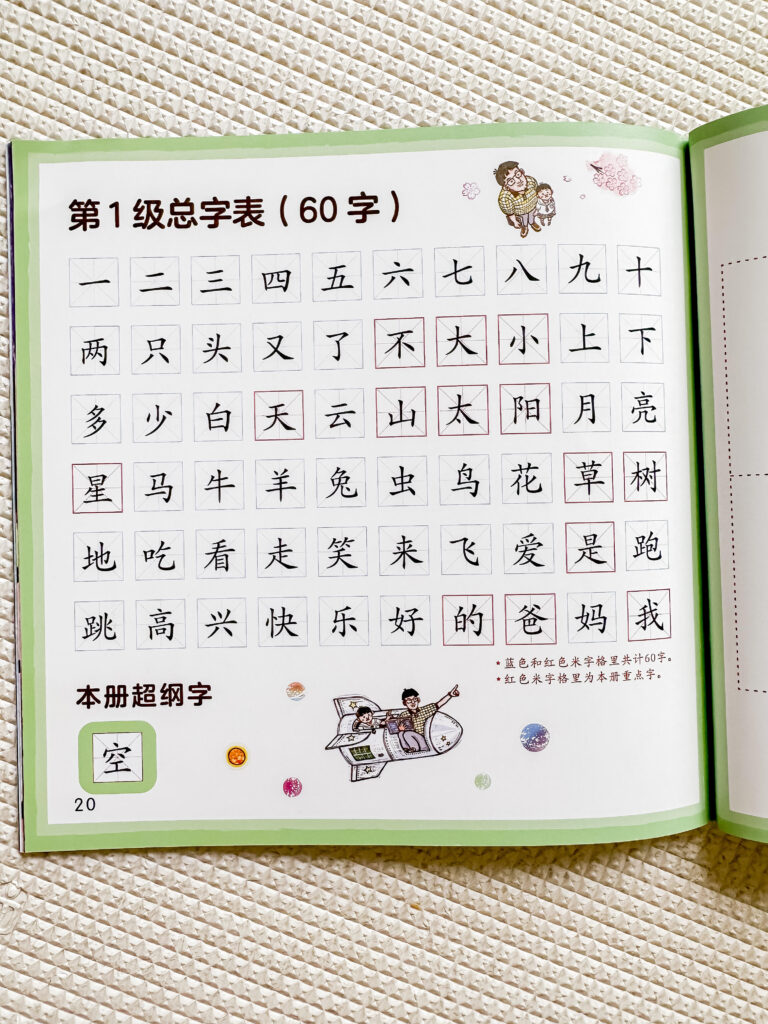 You may notice that some of these words are not included in the list of 6 words that your children will be introduced to. They're there to help the story make sense. The words used are usually simple and appropriate for children who have just started learning Chinese. These words are also commonly used in our children's everyday lives.
Once our children have learned the words required for each book, they will be able to read most of the words in the story. With each repetition, their memory will become stronger, and as they start to read on their own, their interest and confidence in learning will grow.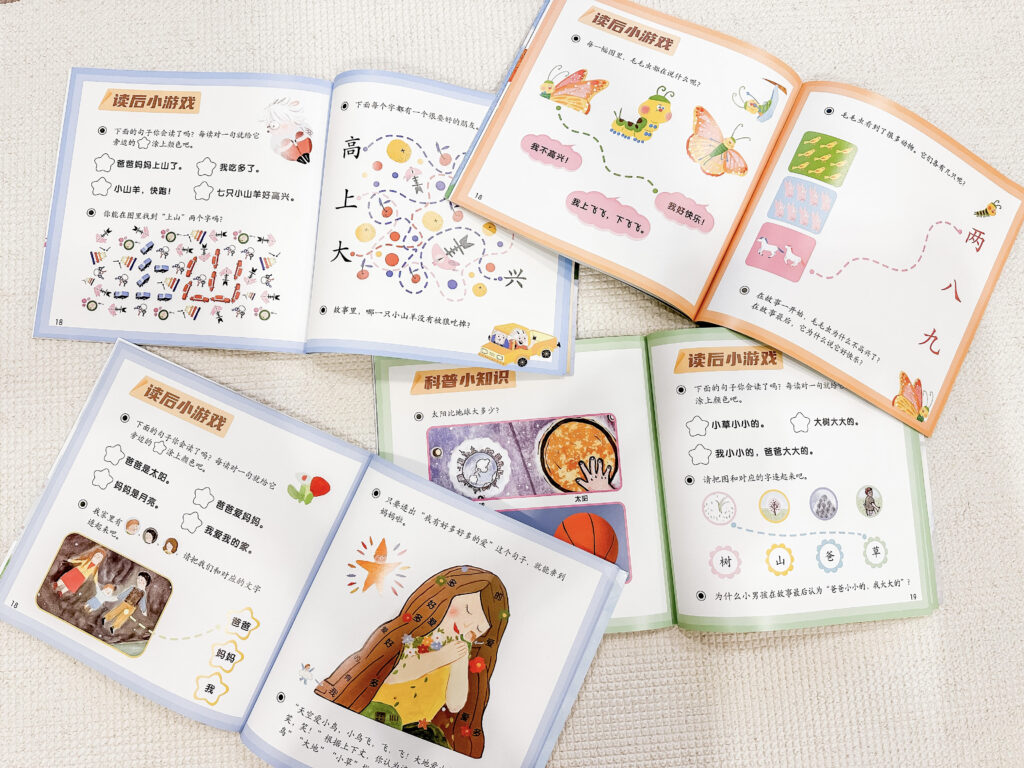 At the end of each story, there are activities included in the book to keep your child engaged and interested. It not only strengthen our children's vocabulary but also aid in building their memory and comprehension of the story they have just read.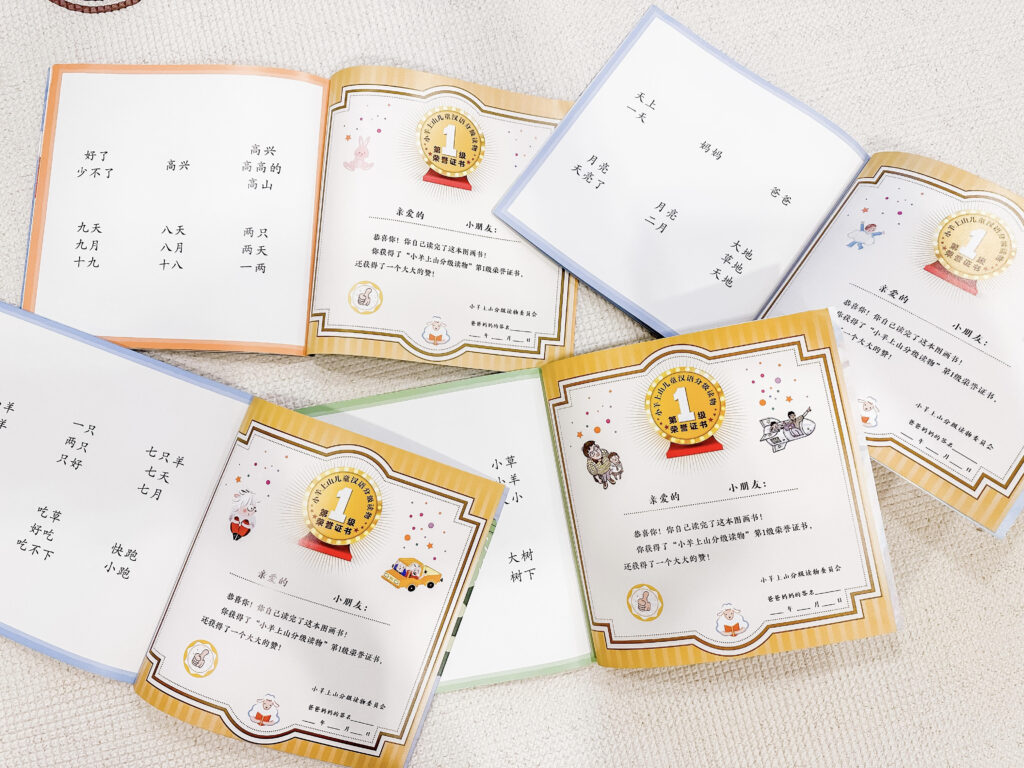 A special reward certificate with each book they complete! It's a small gesture to celebrate their hard work and progress in learning how to read.
Example of Level 1: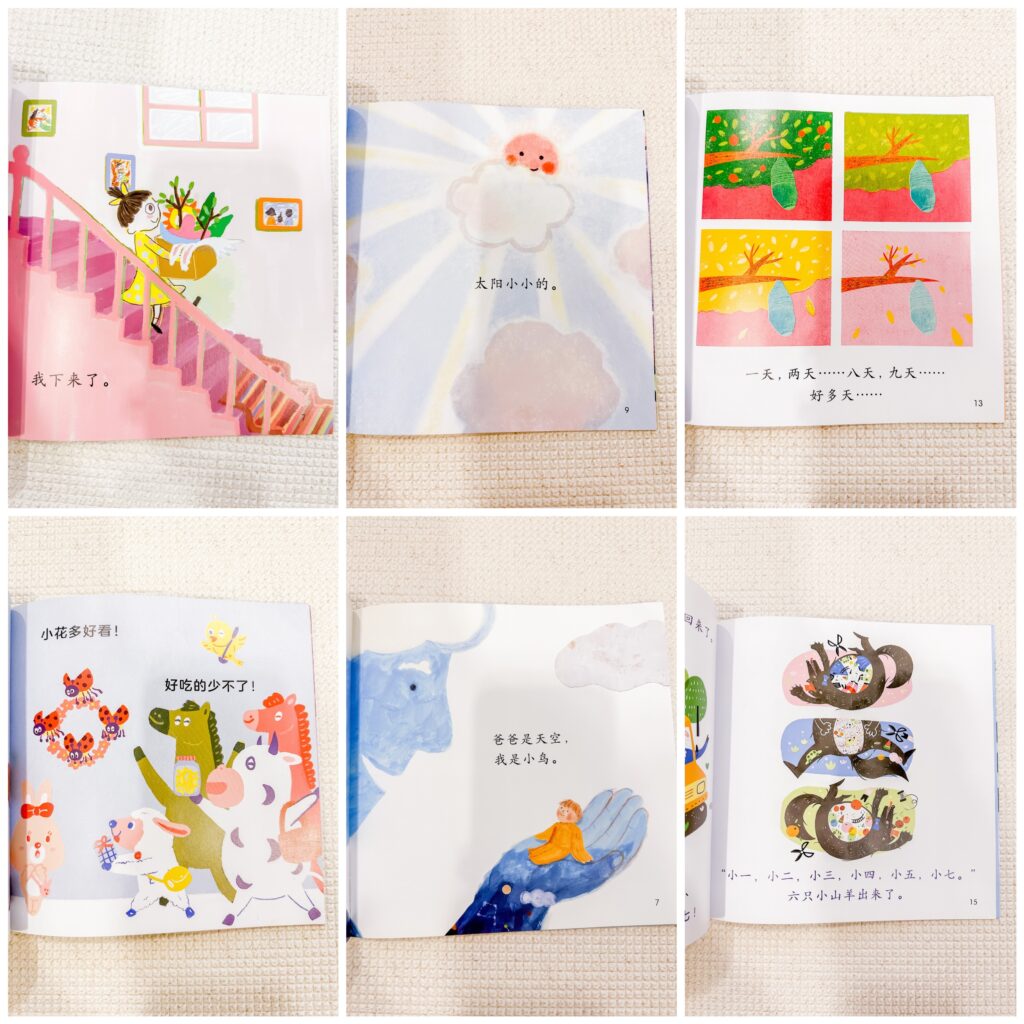 Example of Level 2: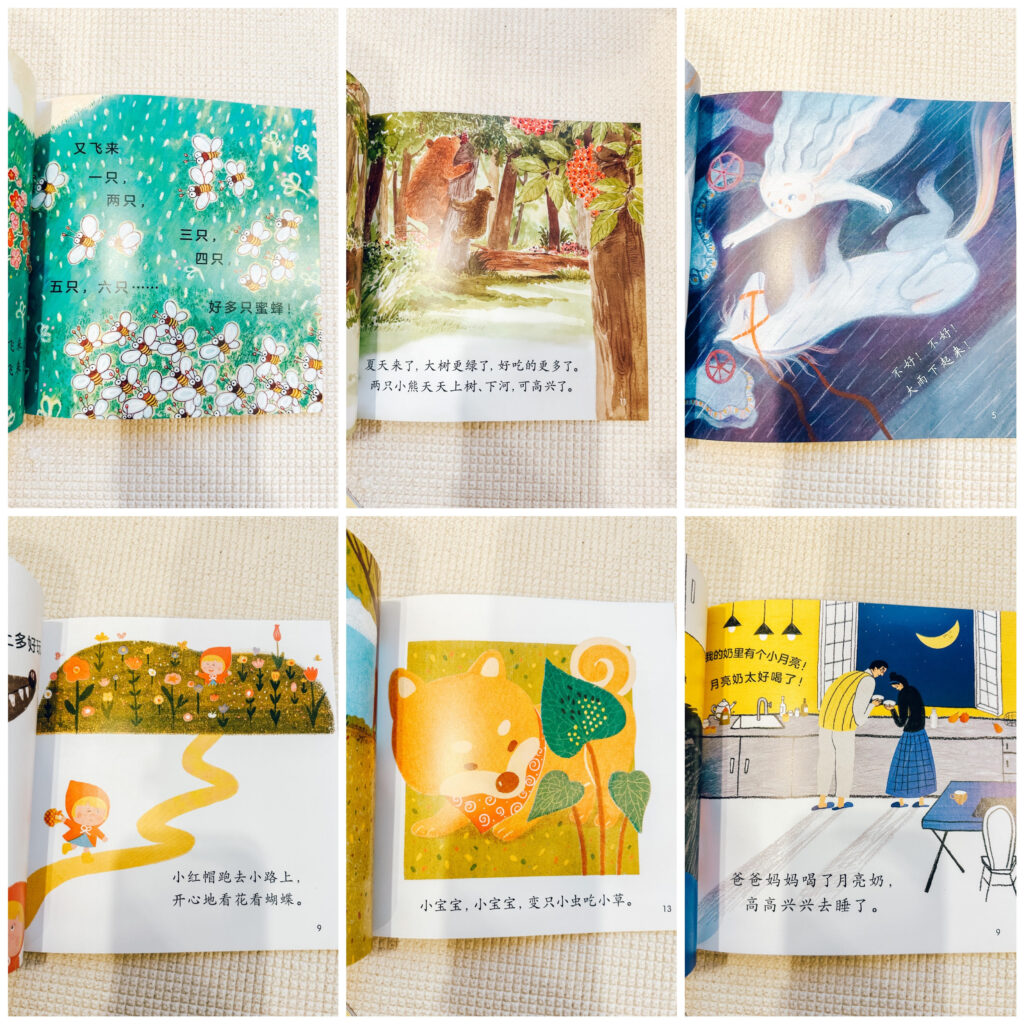 Example of Level 3: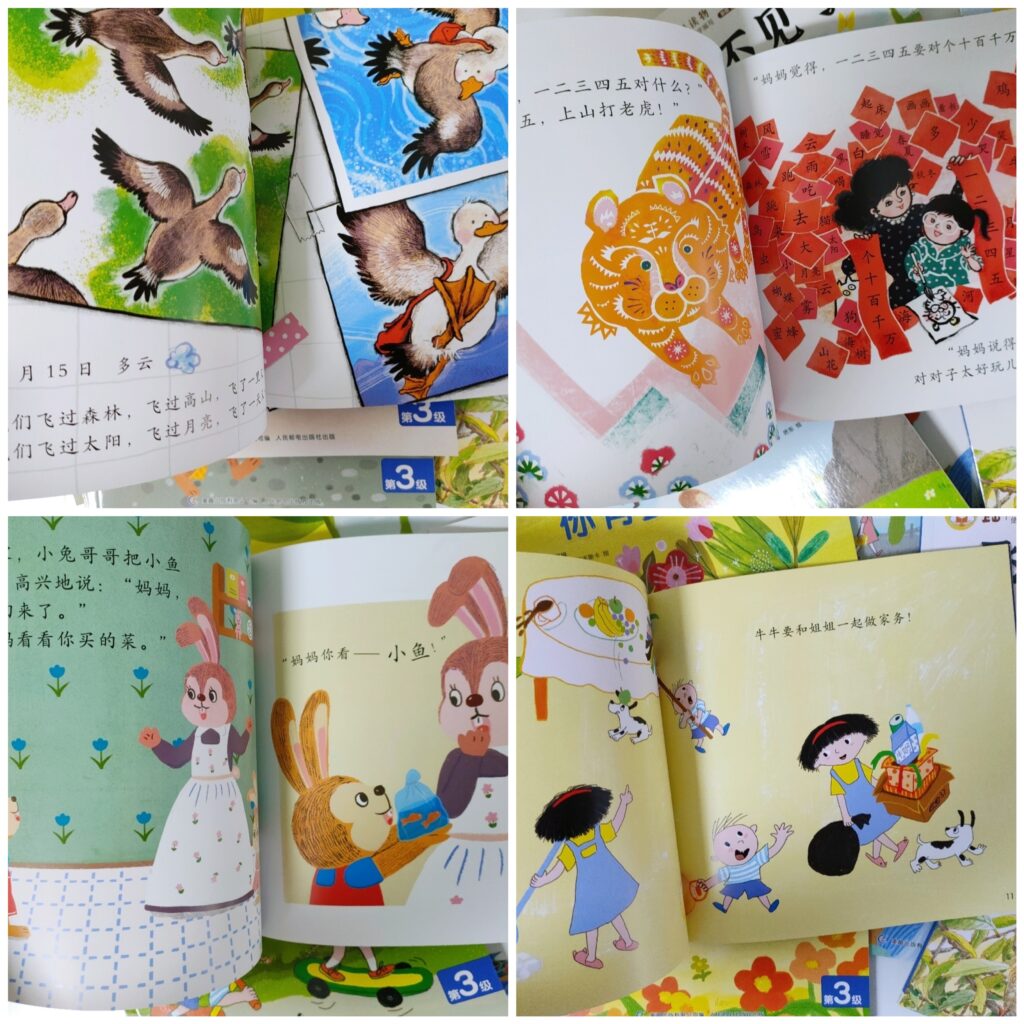 Example of Level 4: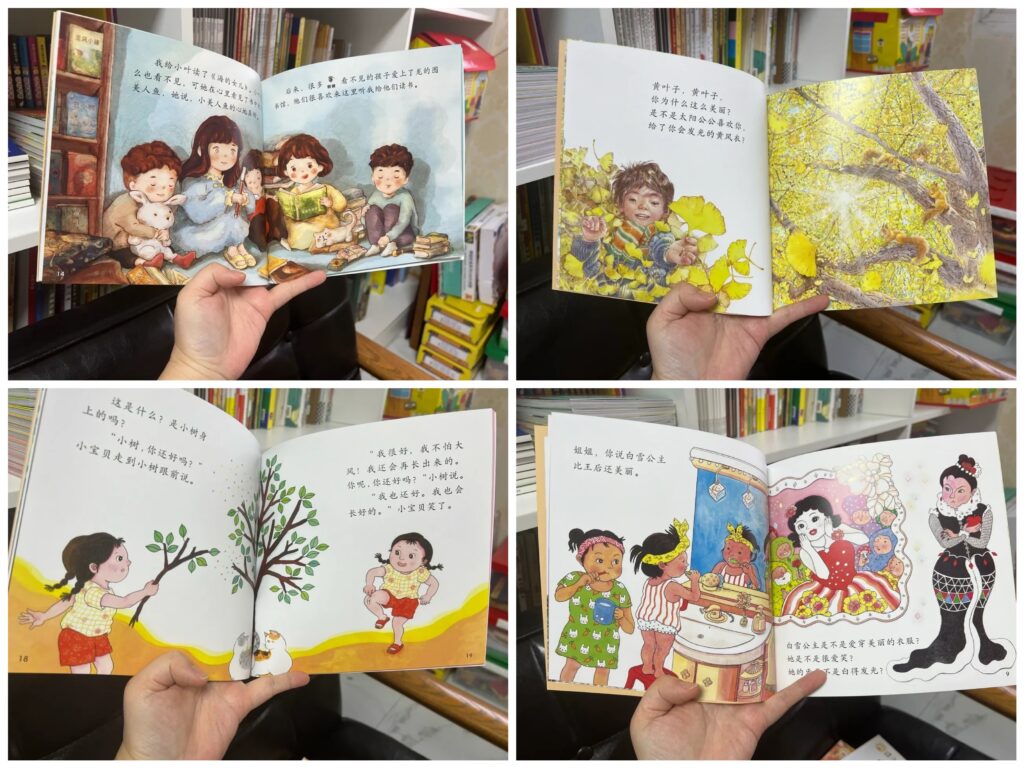 Example of Level 5: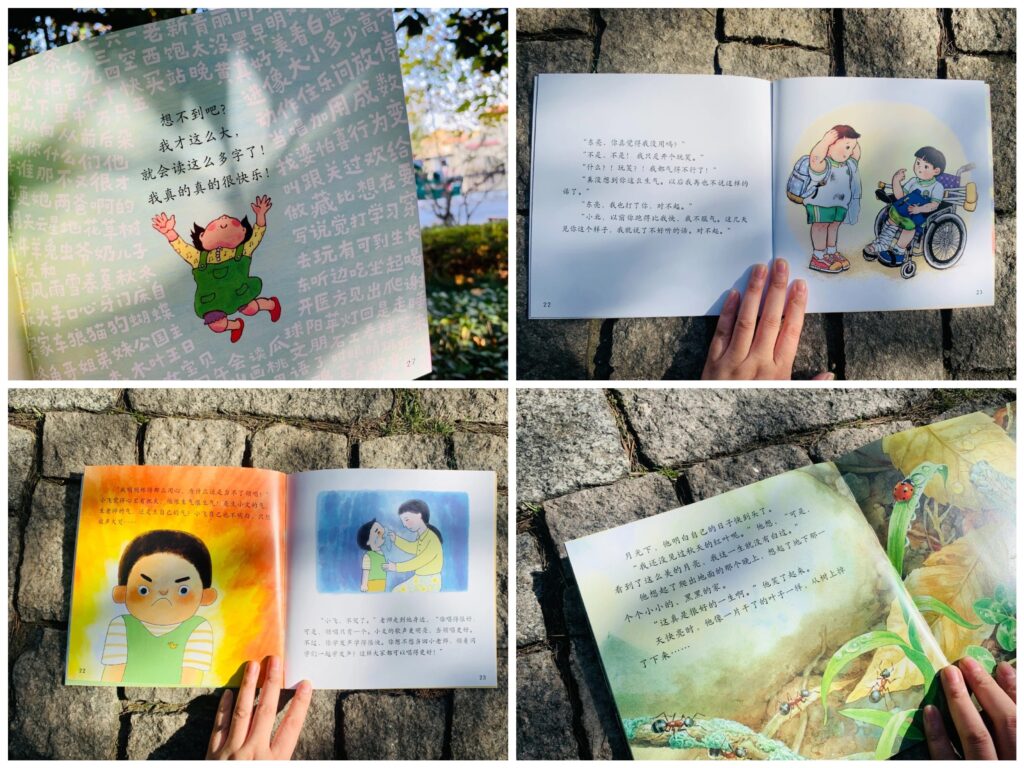 Thank you for staying with me until now. I wanted to share that I have received tremendous support from the publisher for our group buy. I have official documentation confirming that the books in this current group buy are completely original. This should give you all the confidence you need to make your purchase with peace of mind.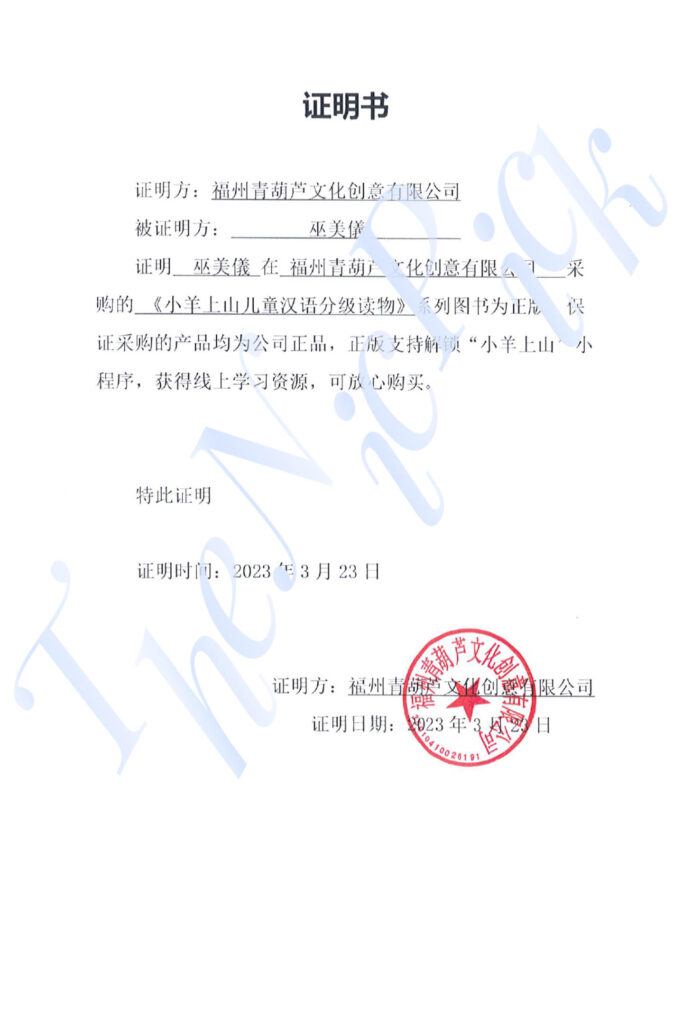 ORDER
HERE
GROUP BUY WILL RUN FROM 31.03.2023 TO 06.04.2023
Special Promo: Free Courier for purchase of 2 sets and above
Use code: SERENE2OFF
It means a lot to me that you've taken the time to engage with my content, and I hope it has been informative and enjoyable for you. Your support is truly appreciated and motivates me to continue creating valuable content for you.