Are you in search of a reliable reading program for your child? I will be sharing my personal experience with Curious Thoughts Academy. This is also CTA's first ever collaboration.

I would like to clarify that I am not receiving any compensation for this collaboration. It is my pleasure to recommend this phonics enrichment centre to parents who are facing challenges with their children's reading abilities.
I would like to begin by sharing my personal experience with Curious Thoughts Academy before providing a brief introduction about the center. Please bear with the long post ahead and I hope it will be useful in deciding your child's next reading enrichment center.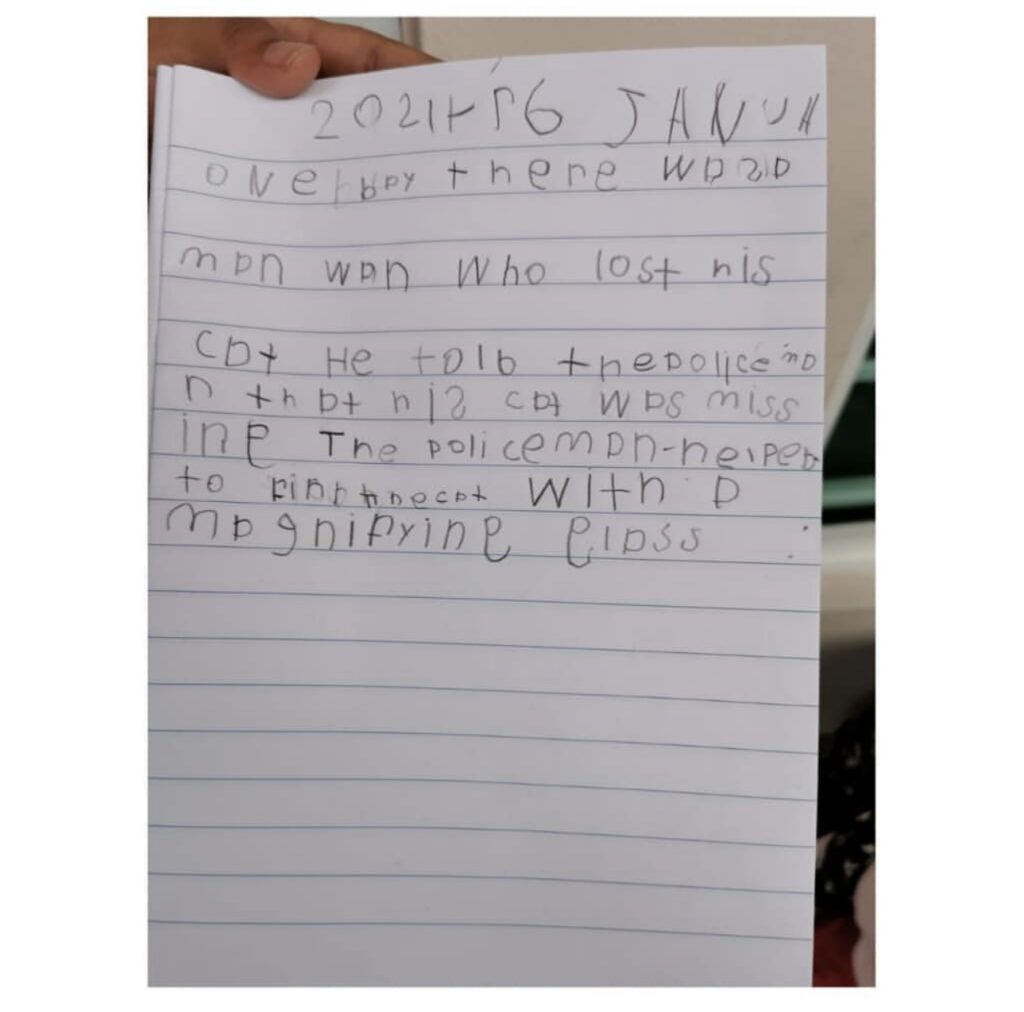 One of my daughters was born on 1st Jan, and because of that she had to start school one year ahead of her peers. I could still remember when she 5, but in K2, her teachers called me to express concerns about her. She was worried that she could be dyslexic and also she was unable to read any words. I contacted Lydia from CTA and explained our situation to her. She was very kind andinvited us to come for a trial lesson. It turned out that my daughter did not have dyslexia but was simply unfamiliar with her left and right directions. And due to not enough practice, she had difficulty recalling how to write the alphabets.
Enrolling our daughter in CTA was one of the best decisions we made. Despite starting from scratch with zero reading skills, she made remarkable progress under the guidance of their experienced teachers. Within a year, she was able to move from reading to completing comprehension and was ready for P1. We were thrilled with her progress and grateful for the dedication and expertise of the CTA team.
Brief introduction about CTA and its program:
Curious Thoughts Academy is the only Singapore centre that is trained in both Jolly Phonics and Orton-Gillingham, a dyslexia intervention framework, which are based on the Jolly Phonics framework.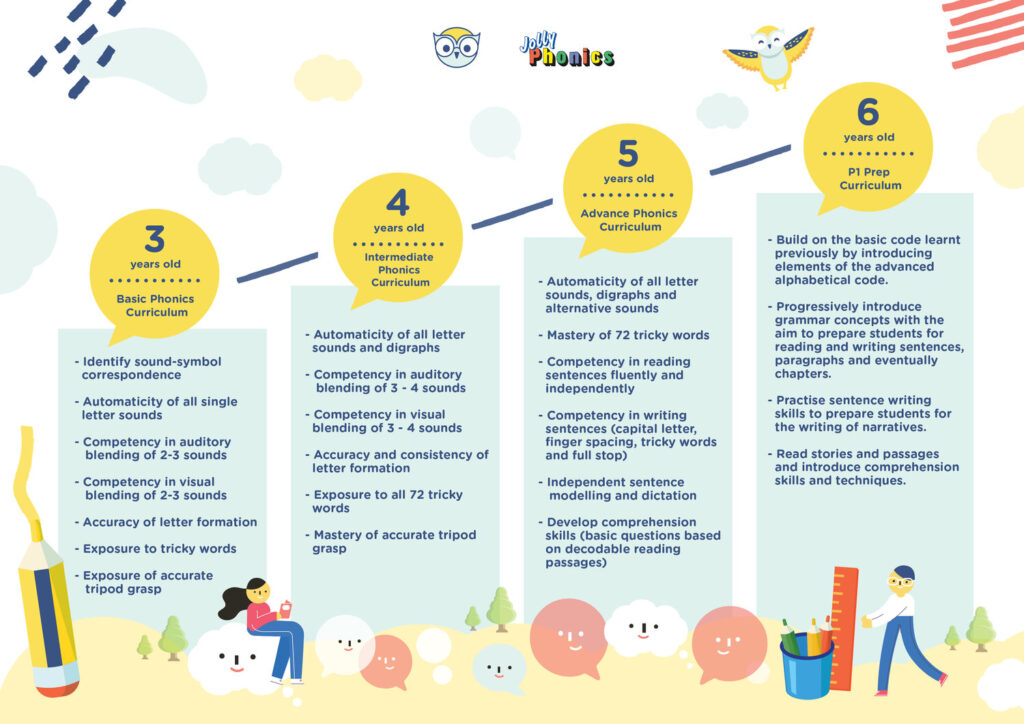 Jolly Phonics is a comprehensive program that utilizes a proven, enjoyable, and multisensory synthetic phonics approach to enable children to read and write.
The program prioritizes the teaching of letter sounds over the alphabet, as it acknowledges that the 42 letter sounds serve as the essential foundation for phonics and are necessary for children to decode English words.
Once children have learned the letter sounds, they need to develop the skills of blending and segmenting. When reading a word, they recognize the letters and blend them to form the corresponding sounds. When writing a word, they identify the sounds and write the corresponding letters.
Lastly, Tricky Words, such as 'who' and 'I'. Tricky words do not follow the phonetic rules. Our children must learn these as exceptions. Tricky Words appear very often in simple sentences hence early introduction can help to enhance reading fluency.
The Jolly Phonics program has been studied in numerous research projects and proven successful for over 25 years.
As part of our first collaboration, first-time participants who register for the phonics course will enjoy a $100 discount as well as a waiver of the registration fee (valued at $32.40).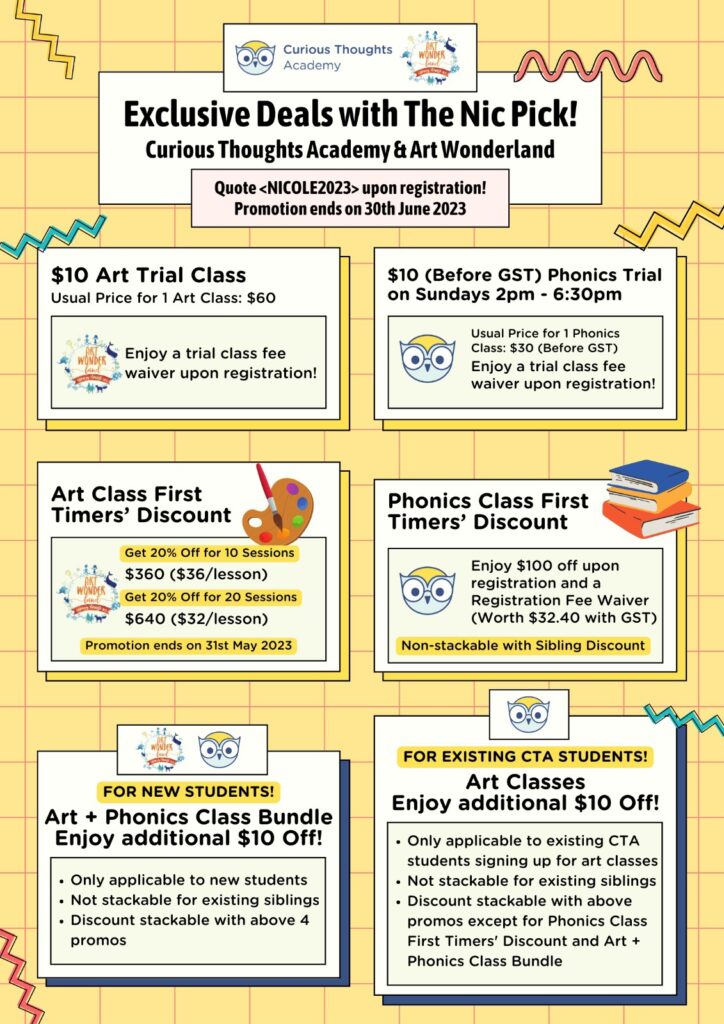 Parents seeking art classes for their children can also benefit from our collaboration. By signing up with our sister company, Art Wonderland, you can enjoy a 20% discount on their art classes.
But wait, there's more! If you decide to enroll your child in both the phonics and art classes, you'll get an additional $10 off for both phonics and art classes on top of the discounts already mentioned. So don't miss out on this amazing opportunity to give your child the gift of learning and creativity!
Remember to quote <NICOLE2023> when you sign up for the classes!
Promo will end June 2023!